Pre-Arrival Concierge
Our service starts long before your trip, our team based in the Alps will arrange everything from your ski instruction, transfers and ski hire, to restaurant reservations and massages, so that your holiday will be entirely hassle-free and designed to prioritise your rest and relaxation. Due to our location and years of personal and professional experience, we have the best local knowledge and contacts to ensure that everything goes smoothly.
Your Bramble Ski Pro
You'll be welcomed by your personal concierge, your Bramble Ski Pro, not only do they know our properties, service, and the resort inside out, they are highly qualified instructors with many years of teaching experience. We want you to experience the best the mountain has to offer and included in every fully catered booking are two complimentary days of instruction with one of our instructors. They will spend the two days with you on the slopes however you wish, to ensure that you get the most out of the mountains around you. Whether that is guiding you around the slopes, improving your technique or giving the children their first ever lesson, you can trust them to make it happen. Then there is always the option to extend the instruction beyond the two day, our pre-arrival concierge team can help you with this. The Bramble Ski Pro's also embody a unique concierge role throughout your stay, as your go-to person throughout your trip – true insiders with bountiful local tips and connections, who are extremely knowledgeable about their resorts and the mountains surrounding them. You can trust them to look after all of your needs for a flawless experience during your stay.
In certain properties, a residence manager will act as your concierge in place of a Bramble Ski Pro.
Driver Service
A selection of our Alpine Luxe chalets come with either a dedicated or shared 4 x 4 driver service when taken on a catered basis. (This excludes Zermatt, which is a car-free resort. However, each booking in Zermatt includes an arrival and departure e-taxi and during your stay our resort team would be delighted to assist with booking e-taxis).
Daily Breakfast
In the mornings, you can relax and enjoy the convenience of a cooked and continental breakfast laid out for you in the comfort of your chalet, every day of your stay. Healthy, fresh, local produce will be on offer to cater to all tastes and diets, and your chef will be on hand to serve cooked breakfast your way. Enjoy a spread of delicious regional meats and cheeses, freshly baked goods, seasonal fruits, preserves, artisanal yoghurts and cereals to fuel up before an exhilarating day on the slopes.
Afternoon Tea
On six days, you'll arrive home from the slopes to an indulgent freshly baked afternoon tea – including savoury options – and hot drinks to warm you up as you relax after a great day on the mountain. Our chefs would be happy to adapt to any preferences, dietary requirements or other specific requests, including delicious vegan or gluten free options if you wish.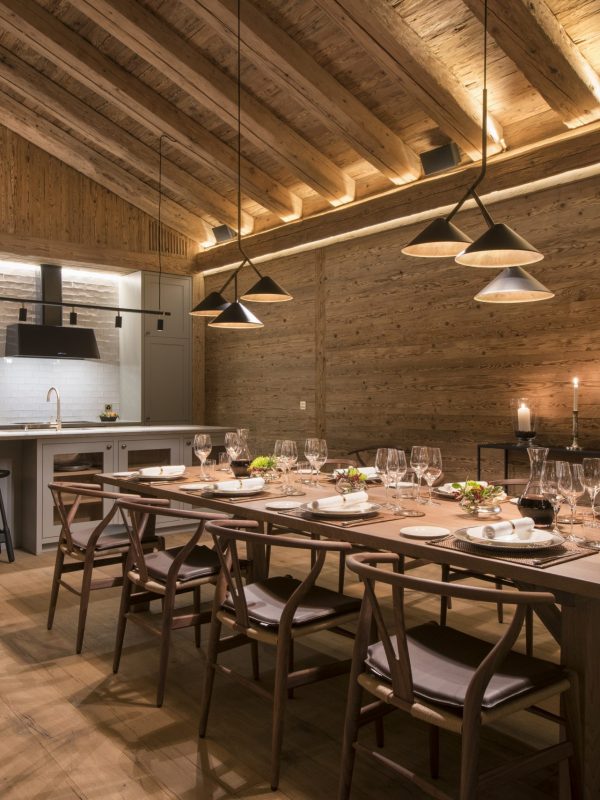 Dinner
On six evenings, you'll enjoy a delicious dinner with European wine pairings, each course carefully designed around your personal tastes and introduced by your chef. Our talented team have trained alongside Michelin-starred chefs and have worked in some of the finest restaurants in the world. Passionate about using locally sourced, seasonal produce, your chef will work with you to create a menu perfectly tailored to your group, adapting to any preferences, dietary requirements or other specific requests.
Drinks
We pride ourselves on our considered selection of wines, as well as the option to order personally selected bottles prior to your holiday, or once you are in resort. You'll be greeted with a champagne reception and a selection of appetising canapés on arrival, followed by a selection of impeccable house wines to accompany dinner, hand-picked from local vintners. Afterwards, why not relax with a fireside digestif or coffee? Your catered ski chalet will be stocked with a selection of quality complimentary spirits, including Belvedere Vodka, Hendricks Gin and Glenmorangie Whiskey. Alternatively, we offer Seedlip non-alcoholic gin, bringing you a selection of delicious alcohol-free après options.
EHL Trained Hosts
Trained by the Ecole hôtelière de Lausanne, a Swiss hospitality school widely regarded as the best in the world, our hosts are chosen for their backgrounds in luxury service, meticulous attention to detail and their dedication to going above and beyond for our guests. They will be on hand throughout your stay to ensure it is as comfortable and relaxing as possible. Be it preparing hot coffee for your return from the slopes, serving delicious dinners, assisting with your packing, or shaking up your favourite cocktail on request, they are there to take the hassle out of your holiday and to give you the sense of home away from home.